Witness worries me: McNair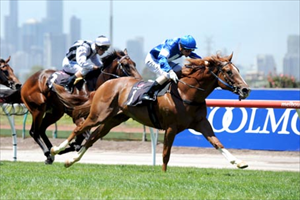 Hay List's trainer John McNair says Saturday's Group 1 Patinack Classic battle of the bulge has a new and serious contender.
"I've got as much respect for Star Witness as I do Black Caviar," says McNair, who grew wary of Star Witness after the three-year-old ran a close second to Hay List in an 800m jump out at Flemington last Tuesday week.
"Star Witness was right on our tail in the trial at around level weights and now he's getting five kilograms off us," he said.
"He's a very good colt and he worries me as much as the mare. Having said that, if the real Hay List turns up, as I expect him to, then I don't think we've got much to worry about."
Patinack betting has swung dramatically Black Caviar's way, with most bookmakers posting her around $1.75, with Hay List out the gate around $2.95, following an injury setback.
Hay List took fright at a bird last week and badly cut his leg on a concrete water tub. The gash required stitches.
"He's got a pretty decent battle scar but he'll turn up 100 per cent even if he doesn't 100 per cent with his unsightly scar," McNair said.
Both McNair and Black Caviar's trainer Peter Moody declared their horses fit and ready for the race that should have the winner regarded the best sprinter in the land.
Danny O'Brien, trainer of Star Witness, a $51 shot to win the Patinack before his brilliant Coolmore Stakes win on Derby Day, said it was hard to be confident of not beating one, but two champions.
"You can't be overly confident in any type of race but we're going in there knowiong our horse is as good as he can be," O'Brien said.
"He's been set for this week; he got half of it done last Saturday where he was dominant and still open to improvement going into this race."
O'Brien said Star Witness' raw potential meant he had some chance of matching Black Caviar and Hay List.
"He's the most lightly of the three but he's won two Group 1s," he said. "On what he did last Saturday, he's an untapped talent.
"We think he is a very, very good colt, and he will need to be to beat those two."
Story by Matt Stewart, to view Herald Sun Racing website click here
Photo by Slickpix, to view Slickpix website click here