Shamexpress handles 34-hour trek across the globe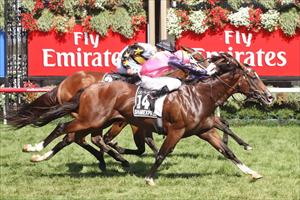 After handling the 34-hour trip across the globe to England, trainer Danny O'Brien is hoping the star colt, Shamexpress showcases his talents to the world at the famed Royal Ascot and Newmarket Carnivals.
O'Brien has confirmed the Group 1 Newmarket Handicap winner had settled into his new surrounds at Abington Place Racing Stables in Newmarket this morning very well following his arduous trek.
"You always worry that the horse handles the flight across, but from our experience travelling horses, it appears he has handled the flight without any worries," O'Brien said.
"He is looking bright and well, and eating up in his stall so we will give him a few quiet days before getting him ready to take on the best at Royal Ascot."
The 14-time Group 1 winning trainer also announced that New Zealand Thoroughbred Marketing will sponsor the horse in the UK as the colt promotes the Kiwi breeding industry.
"We have had a lot of luck with New Zealand-breds winning races such as the Caulfield Cup, AJC Derby, Australian Guineas and Newmarket, Salinger & Goodwood Handicaps so hopefully this colt can add another chapter to that by winning on the world stage," O'Brien said.
The O'Reilly colt's silks will carry NZTM logo on the chest throughout his European campaign, which will include the Kings Stand Stakes at Royal Ascot on June 18 and July Cup at Newmarket on July 13.
Photo by Bruno Cannatelli, to view Bruno's website click here