Racing Victoria Blog: Danny O'Brien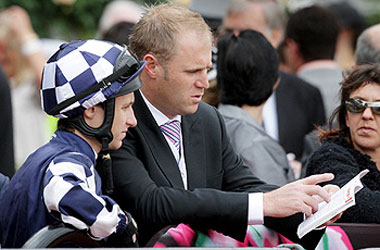 Well, the countdown is on before Shamexpress boards a flight to the UK where we've set him for the Group 1 King's Stand Stakes (1000m) at Royal Ascot and I can't wait to get there. He'll travel over with John O Shea's Sea Siren and will leave Australia next Wednesday.
Since Shamexpress won the Newmarket in March, a win which I'm very proud of because we always thought he had Group 1 ability, he's been based at our other training complex in Barwon Heads on the Bellarine Peninsula where he has basically stayed in light work. The great thing about having him at Barwon Heads for a couple of months is that we were able to send him to the beach every second day and also tip him out into the paddock during the day which is a great environment for any horse.
The cold salt water is extremely therapeutic for their joints and knees, in fact horses are similar to humans in that when you go down to the beach for a swim you generally come home with an appetite, and feeling revived. It's similar for the horses, because you can see they get a real lift out of it and I guess we're lucky to have access to such beaches on our doorstep.
Shamexpress has improved physically since winning the Newmarket and is a bigger and stronger horse which is really pleasing. He'll have an 800m trial this Friday down the Flemington straight which is perfect seeing he'll be running down the straight in the England.
Black Caviar's $2.6 million half sister Belle Couture (by Redoute's Choice) came to the stable in the first week of March and spent the first two months at Barwon Heads getting a base into her. She's now at my Flemington stable and is starting to do a few pieces of faster work now. I'm very pleased with her and how she's progressing. She's a stunning filly with great intelligence and great rein on her. She learns things really quickly and we're heading towards a barrier trial in the next six weeks or so, middle of July.
We haven't placed Belle Couture under any pressure yet but what I can say is that she's got real style and seems to have a lot of the attributes you want in a good racehorse.
My father was a breeder and hobby trainer so I grew up on a farm where we had mares, yearlings and few horses in work, so horses is something I've known all of my life and have always enjoyed being around them. Training racehorses as a profession is something you can only do if you love it because it's demanding.
While we, as an industry, accept that a certain lifestyle goes with working with horses in the thoroughbred industry, I'd like to see public training hours adjusted in Victoria to fall in line with England, Singapore and Hong Kong where the tracks are open from 6.30am rather than 3.30am, so participants can lead a bit more of a normal life.
If the racing industry wants to grow, develop and attract employees, especially those in the younger generation, we definitely need to look at starting at a later time. I think there needs to be some strong industry leadership here and the will to embrace change, because we should be thinking about developing the industry for the next 50 years, not focus on the last 50 years.
Some people fight change because they simply don't like change in itself but I'm an advocate for it especially if it means a long-term positive outcome and training hours is an important industry issue which should be closely looked at for a variety of reasons.
A lot does work well in our industry and nothing more so than the Spring Racing Carnival. We're lucky to have a world-class carnival which is something that's been built up over a hundred plus years on our Victorian doorstep.
While I'm looking forward to taking on the best at Europe's most prestigious racing carnival, I wouldn't trade for anything else in the world for what we've got at home.
Regards,
Danny.
Blog appears courtesy of Racing Victoria