O'Brien to take on Jockey's in NJT T20 Event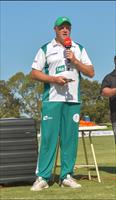 Next Monday Danny O'Brien will be again be donning the whites for the All Star's Team in the National Jockey's Trust T20 Cricket Match to help raise funds for the great cause.
It's long odds that the 16-time Group 1 winning trainer will be able to reproduce his Man of the Match efforts from last year, which included the prized wicket of Damien Oliver with my first ball, but the trainer is hoping to repeat his effort of raising the most money of the participants in the match.
"Our tally of $12,266.35 would not have been possible without all your support and the generous donations from the Danny O'Brien Racing family. Thank you for your efforts and your support again this year would be appreciated by all concerned," O'Brien said.
"We all love our fantastic industry, but by the far the most courageous are the jockey's who risk their lives every day racing. We probably take their role for granted, however I think it is critical that we as industry participants rally around causes like this to show our support in any way we can."
Each year more than 200 jockeys - around 33% of all jockeys - are injured and 89% of race falls lead to jockeys requiring assistance from the Trust. The National Jockey's Trust assist's jockeys and their families in times of need.
This organisation has contributed $3.3 million in assistance to injured jockeys and their families, and events like this match are critical to raising funds to assist those in need.
To donate to the Jockey's Trust Click Here
O'Brien also implored racing fans to get along to the next Monday's event
"If you can make it to the event, please do as it is a great fun day out for the whole family," O'Brien said.
TAB NJT20 Cricket Match 2019
Date: Monday, January 21, 2019 from 12pm
Venue: Williamstown Cricket Ground (Burbank Oval, Morris St, Williamstown)
The Cricket match is a free event, and the general public and racing fans are all welcome. There will be the celebrity cricket match, kids activities, food trucks, sausage sizzle and cash bar. 1992 Melbourne Cup hero Subzero will be in attendance from 3pm. Half-time activities will include fun for all the family.
For more information on the event Click Here